Available Here and All Platforms
 "A Tale of Love, Self-Worth and Divergent Perspectives"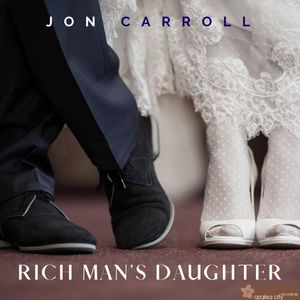 Mixed By Bob Dawson @ Bias Recording Studios, Springfield, Va.
Mastered by Mike Monseur
Written, Played and Sung by Jon
plus
David Trenholm: Tenor Sax
Nick Borges: Trumpet
Kat Rapaki: Trombone
~Cover Design by MeredithLauren~
"Jon Carroll is a one man band, a poet, a songwriter, a singer of every kind of song and above all, a musician's musician…and I can also attest to his being a not-to-be-missed performer."~Mary Chapin Carpenter 
"… now the most reliable sideman in Washington, D.C., puts out another just mere months later." 
~NoDepression.com 

   LOVE RETURNS  IS… 
"…a vibrant reminder of what Carroll does best, whether it's conjuring vintage R&B/soul sounds, or composing evocative ballad(s) which manage to bring to mind both novelist Annie Proulx and John Prine, or coming up with a country ditty as innocently engaging as On the Front Porch." 

"…he headlines this session with talent and charm to spare."   
~Mike Joyce, The Washington Post
 Heya Folks~
We've been very busy working on all sorts of new stuff with all sorts of folks. Check out the video page for fun vid performances.
The new recorded collection is coming along in a wonderfully sweet & funky fashion.
If you haven't yet, please check out one of my favorite podcasts done daily by one of my favorite performers and people, Pete Dominick. The Stand Up! w Pete Dominick gang is also a wonderfully thoughtful gathering of folks that endeavors to learn and be inventive in myriad insightful ways. If you're a Patreon subscriber to that show, you too could be among the ever increasingly fun Happy Hour Zoom hangs every week, as well as among those gratified in knowing that they support fun, progressive change and nascent knowledge. That is to say, it's not MERELY profoundly entertaining, but er uh, profound in other ways, as well! You'll be glad you checked it out!
My song (You Gotta) Stand Up! kick off and end it every day, and you can get a preview of that by listening too! The single drops on all platforms July 1.
 Thanks for your interest and support, folks!
Tip Site for Various JC Appearances
This is a facility through which wonderful people who've just won the lottery may easily chime in with their gracious support, with which I'll dutifully continue to record, but also employ other artists to make this extra special! I Wanna Do Right By You! Congratulations, adventurer--I'll put it to great use for all. THANK YOU!
Enter the amount you wish to donate